Regulators For Generators
---
The CE-540 was adapted from the CE-500 to fit on the Model 65A generators. Adding this to your existing generator will make it perform like a DGV-5000 as long as it is not a weak generator.
The housing of the CE-500 series is a structural part of the generator containing one of the armature bearings. The regulator controls voltage and limits current (amps). The current limiting circuit senses armature temperature and limits the current in an inverse proportion. Temperature goes up, amps go down. This gives you more amps after a cold start to recharge your battery faster (5 minutes instead of 20). Yet protect against over heating (armature burn out).
The CE-500 was designed as part of the DGV-5000 (generator with built-in regulator) and has internal wiring.)
CE-540
For use on 65A generator
CE-100 Series regulators accurately control voltage and current. Accurate voltage control is necessary to maintain proper battery charging rate. Accurate current control is very important to get maximum power without causing generator damage.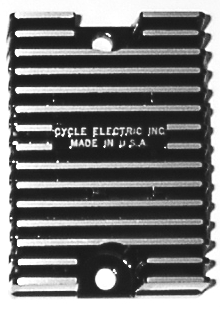 All Cycle Electric Inc Regulators are built to last.We start with a rugged design capable of handling overloads and continuous operation. Then we use only top quality materials and military spec. assembly process to ensure a low failure rate and the longest service life.
Plug
Type
Cycle Electric
Part No.
Replaces
O.E.M. No.
Model
Application
A
CE-101
Replaces Mechanical
1958-1964 XL, XLH, XLCH, FL & FLH.
All 6 Volt 2 Brush Generators
A
CE-102
Replaces Mechanical
1965-1977 XL, XLH, XLCH, 1965-1969 FL, FLH. All two brush 12 volt Generators
A
CE-102L
Replaces Mechanical
1936-1964 12 volt conversion when using small 12 volt battery in horse shoe oil tank.
B
CE-104
74504-78
1878-1981 XLH, XLCH, XLS.
C
CE-105-10
N\A
1982-Earley 1984 XLH, XLS, When using model 65A generator
C
CE-105-13
N\A
1982-Earley 1984 XLH, XLS, When using model 65B Hitati generator
M
CE-500
N\A
Replacment Regulator for DGV-5000 Generator with built in regulator
M
CE-500L
N\A
Replacment Regulator for DGV-5000L Generator with built in regulator
M
CE-506
N\A
Replacment Regulator for DGV-5006 Generator with built in regulator
M
CE-540
N\A
End Bell Regulator Fits Modle 65A 12 Volt Generator
M
CE-540L
N\A
End Bell Regulator Fits Modle 65A 12 Volt Generator when using small battery in horse shoe oil tank
M
CE-546
N\A
End Bell Regulator Fits Modle 61 6Volt Generator